Premium Members


Sponsored Links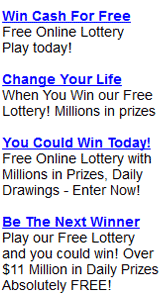 Dist. of Columbia (DC) MEGA Millions Past 30 Day Winning Numbers
Dist. of Columbia (DC) MEGA Millions Past 30 Day Winning Numbers
From: WED 11/08/23 ~ Thru: FRI 12/08/23
TUE 12/05/23
18-35-40-64-67-18
FRI 12/01/23
12-47-49-52-65-12
TUE 11/28/23
27-37-42-59-61-11
FRI 11/24/23
06-15-45-59-68-01
TUE 11/21/23
17-22-25-30-38-24
FRI 11/17/23
06-12-31-33-69-17
TUE 11/14/23
29-35-59-61-69-22
FRI 11/10/23
13-33-59-68-70-08
How to Play MEGA Millions?

Mega Millions tickets cost $1.00 per play.

Players may pick six numbers from two separate pools of numbers: five different numbers from 1 to 75, and one number from 1 to 15 or select Easy Pick. You win the jackpot by matching all six winning numbers in a drawing.

If you Win?

If you select the annuity option, which provides annual payments over a 30 year period, for every million dollars won, you will receive approximately $38,500 per year before taxes. You also have the option of a one-time, lump sum payment.

In addition to the jackpot, there are other prizes ranging from $2 to $250,000.

Mega Millions prizes will not be awarded based solely on the information below. Your Mega Millions member state lottery must validate your ticket claim before your prize is awarded.

All tickets, transactions and players are subject to the lottery rules, regulations and laws of the state where you buy your ticket. When you buy that ticket, you agree to be bound by those rules, regulations and state laws. Copies are available from your state lottery.

Presentation or transfer for payment of an altered, forged or counterfeit ticket is a felony.

Winning tickets are subject to validation. Winning Mega Millions tickets must be redeemed within the time period after the drawing that is specified by the lottery state where you bought your ticket.

Tickets purchased in a Mega Millions member lottery state can be redeemed only in that state.

Ticket purchasers and winners must be at least 18 years of age.

A playslip is not a valid receipt.

Overall chances of winning a prize are 1 in 40. Chances of winning the jackpot are 1 in 175,711,536

LottoStrategies.com - More About Dist. of Columbia (DC) MEGA Millions Lottery

LottoStrategies.com provides the below information:

Dist. of Columbia MEGA Millions drawing results (winning numbers), hot/cold Numbers, jackpots
Dist. of Columbia MEGA Millions Prizes and Winning Odds, wheeling system, payout, frequency chart, how to play, how to win, etc.