Premium Members


Sponsored Links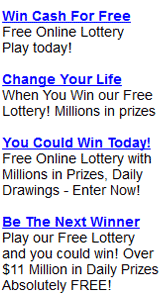 Virginia (VA) Powerball Past 30 Day Winning Numbers
Virginia (VA) Powerball Past 30 Day Winning Numbers
From: THU 11/09/23 ~ Thru: SAT 12/09/23
WED 12/06/23
02-12-37-56-65-21 PP: 3
MON 12/04/23
18-19-27-28-45-09 PP: 3
SAT 12/02/23
28-35-41-47-60-03 PP: 2
WED 11/29/23
06-47-50-61-68-04 PP: 2
MON 11/27/23
02-21-38-61-66-12 PP: 2
SAT 11/25/23
27-33-63-66-68-09 PP: 2
WED 11/22/23
20-24-33-39-42-21 PP: 2
MON 11/20/23
19-26-30-39-63-13 PP: 2
SAT 11/18/23
34-50-51-61-67-20 PP: 2
WED 11/15/23
03-04-51-53-60-06 PP: 3
MON 11/13/23
24-33-35-37-42-21 PP: 2
SAT 11/11/23
01-12-14-24-57-07 PP: 4
How to Play Powerball?

Powerball is a multi-state jackpot game with a jackpot starting at $40 million and increasing until it's won. You get nine ways to win with Powerball. Match all 5 numbers plus the Powerball to win the jackpot. Powerball drawings are held every Wednesday and Saturday evening.

Drawing game tickets cannot be voided. All sales are final. Drawing prizes must be claimed within 180 days of the drawing.

How to Play?

Powerball is a multi-state jackpot game with jackpots starting at $40 million and increasing until it's won. You have three ways to pick your numbers.

Choose Quick Pick and let the computer select your numbers for you.

You can choose your own numbers and mark them on the selection slip. Pick five white numbers (1 through 69) plus one red Powerball number (1 through 26).

Choose just white numbers, or just the red Powerball number, and Quick Pick the other number(s).

Play as many as you want, the way you want. You can play Powerball for up to 10 consecutive drawing dates on the same ticket. Just tell the retailer at the time of purchase or mark the Multi-Draw box on your selection slip.

How to Win?

Powerball has nine winning ball combinations. The more numbers you choose that match the numbers drawn, the more you win. If other players also match the six winning jackpot numbers, you~Rll share the prize pool with them in equal amounts

Payment otions

If you win the jackpot, you have 60 days to choose either a 30-year annuity or a lump-sum cash payment of approximately half the amount of the announced jackpot.

If you do not select cash or annuity within the 60 days, your prize will be paid as an annuity.

Match 5 Bonus Prize - Whenever the Powerball jackpot reaches a record level, the amount of the jackpot prize is limited to increases for each draw of no more than $25 million. The prize money collected in excess of the $25 million increase will be placed into a Match 5 Bonus prize pool and will accumulate until there is a jackpot winner. When there is a jackpot winner, the Match 5 Bonus prize pool will be divided equally among all winners of the Match 5 prize. The prize will be paid in one cash lump sum. The Match 5 Bonus prize is in addition to any Power Play prizes that may be won. The Match 5 Bonus prize is not multiplied. A Match 5 winner who also played the Power Play option would win the original $200,000, the amount paid under the Power Play multiplier option, and the new Match 5 Bonus effective bonus prize.

Multiply your winnings with PowerPlay When you choose Power Play, you can multiply the prize up to five times. For an extra $1 per game, you can multiply your winnings by a number from two to five randomly selected at draw time. Mark the Power Play box or ask the cashier for the Power Play option. Power Play does not apply to the jackpot and Match 5 Bonus prizes.



LottoStrategies.com - More About Virginia (VA) Powerball Lottery

LottoStrategies.com provides the below information:

Virginia Powerball drawing results (winning numbers), hot/cold Numbers, jackpots
Virginia Powerball Prizes and Winning Odds, wheeling system, payout, frequency chart, how to play, how to win, etc.