Premium Members


Sponsored Links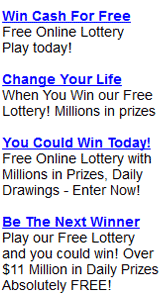 New Hampshire (NH) Megabucks Past 30 Day Winning Numbers
How to Play Megabucks?

Megabucks is a game where a player selects a set of 6 numbers from a field of 42 numbers. Six winning numbers are selected in an independent random drawing twice a week (Wednesday and Saturday). In addition, a bonus number will be drawn from the remaining 36 numbers. This bonus ball increases your chance to win a lot of other prizes.

Cash or Annuity

A Megabucks player has the option of selecting an annuity payment (25 years) or the cash option (1 time cash payment) when the winning ticket is claimed.

Ticket Sales & Draw Time

Megabucks tickets can be purchased daily. Drawings are twice weekly on Wednesdays and Saturdays at 7:50 PM (ET).



LottoStrategies.com - More About New Hampshire (NH) Megabucks Lottery

LottoStrategies.com provides the below information:

New Hampshire Megabucks drawing results (winning numbers), hot/cold Numbers, jackpots
New Hampshire Megabucks Prizes and Winning Odds, wheeling system, payout, frequency chart, how to play, how to win, etc.