Premium Members


Sponsored Links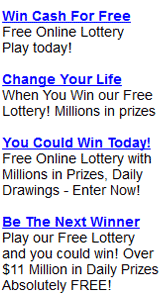 Illinois (IL) Pick 3 Evening Past 30 Day Winning Numbers
Illinois (IL) Pick 3 Evening Past 30 Day Winning Numbers
From: WED 11/08/23 ~ Thru: FRI 12/08/23
THU 12/07/23
6-1-7
WED 12/06/23
6-6-9
TUE 12/05/23
0-3-3
MON 12/04/23
5-3-6
SUN 12/03/23
2-5-4
SAT 12/02/23
6-1-8
FRI 12/01/23
8-4-8
THU 11/30/23
4-7-7
WED 11/29/23
7-1-7
TUE 11/28/23
9-2-0
MON 11/27/23
1-1-4
SUN 11/26/23
0-6-1
SAT 11/25/23
2-1-3
FRI 11/24/23
6-7-8
THU 11/23/23
1-8-9
WED 11/22/23
4-7-7
TUE 11/21/23
7-4-9
MON 11/20/23
9-6-6
SUN 11/19/23
3-4-3
SAT 11/18/23
0-9-3
FRI 11/17/23
5-5-6
THU 11/16/23
6-8-9
WED 11/15/23
4-9-3
TUE 11/14/23
0-1-4
MON 11/13/23
4-3-1
SUN 11/12/23
0-1-7
SAT 11/11/23
4-1-8
FRI 11/10/23
6-1-6
THU 11/09/23
0-2-4
WED 11/08/23
5-3-5
How to Play Pick 3?

Play Pick 3 is as easy as A-B-C...

Amount:

50¢ per game.

Bet type:

9 different ways to win up to $500, straight (all 3 balls in order) being the easiest way to play.

Choose:

Ask for a Play Slip and pick 3 numbers, 0-9, in any combination. Or simply tell the cashier your numbers.

Drawing:

Play twice a day (midday or evening) Monday through Saturday or once on Sunday (evening). Midday draws are at 12:40 p.m.; evening draws are at 9:22 p.m.

WIN!

If the Pick 3 numbers you chose match the drawing numbers in the proper order, you're a winner

LottoStrategies.com - More About Illinois (IL) Pick 3 Evening Lottery

LottoStrategies.com provides the below information:

Illinois Pick 3 Evening drawing results (winning numbers), hot/cold Numbers, jackpots
Illinois Pick 3 Evening Prizes and Winning Odds, wheeling system, payout, frequency chart, how to play, how to win, etc.