Premium Members


Sponsored Links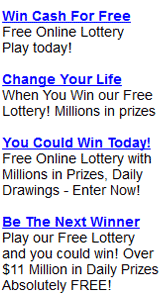 Vermont (VT) Triple Play Past 30 Day Winning Numbers
How to Play Triple Play?

Players pick 5 numbers from 1 to 45 or Easy Pick. In addition to the five numbers picked, the player will automatically receive two additional sets of five numbers for a total of three sets of five numbers on one ticket.

How to Win:

WIN IN A LINE - Win a prize by matching three, four or five numbers straight across on any one of the three lines of numbers. You can win on more than one line.

COMBINATION WIN - Combine number matches from all three lines. Win a prize by matching a total of at least four numbers from all three lines.

WIN BOTH WAYS - You can win both ways on a single ticket. Win in a line and combined match of at least four numbers from the three lines.

MATCH NO NUMBERS AND WIN - If there are no matches on all three lines (the whole ticket), win $2.00.

LottoStrategies.com - More About Vermont (VT) Triple Play Lottery

LottoStrategies.com provides the below information:

Vermont Triple Play drawing results (winning numbers), hot/cold Numbers, jackpots
Vermont Triple Play Prizes and Winning Odds, wheeling system, payout, frequency chart, how to play, how to win, etc.