Premium Members


Sponsored Links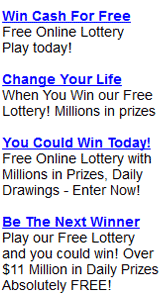 Kentucky (KY) Win For Life Past 30 Day Winning Numbers
How to Play Win For Life?

Select any 6 numbers from 1 to 42 for each desired play or select Quik Pik.
Each playslip allows you to play up to five plays at $1.00 per play.
Check playslip carefully, as a WIN FOR LIFE ticket cannot be canceled. You are responsible for the accuracy of your ticket.
Present playslip, along with $1 for each play area you've marked times the number of drawings played, to the Lottery retailer to receive your ticket.
Sign the back of the ticket so no one but you can claim the prize amount.

Quik Pik

You can have the computer randomly select some or all of your numbers by marking the applicable "Quik Pik" box(es) on your playslip.

Multi-Draw

You can play the same numbers for up to 10 consecutive drawings ($1 per play per draw) by selecting the applicable Multi-Draw box. The play must include the current draw and may not skip any draw in between.

Void

Mark the void box if you have made an error in that particular play area.

How do you win?

The Lottery draws six Winning Numbers, followed by one "Free Ball" number from a single set of 42 balls. Match the six Winning Numbers to win $1,000 a Week for Life. Match five of the six Winning Numbers plus the "Free Ball" number to win $1,000 a week for a year. Matching the "Free Ball" number also increases other prize amounts, as shown below.



LottoStrategies.com - More About Kentucky (KY) Win For Life Lottery

LottoStrategies.com provides the below information:

Kentucky Win For Life drawing results (winning numbers), hot/cold Numbers, jackpots
Kentucky Win For Life Prizes and Winning Odds, wheeling system, payout, frequency chart, how to play, how to win, etc.