Premium Members


Sponsored Links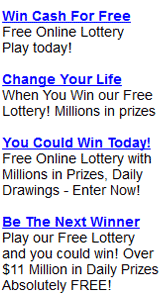 Arizona (AZ) The Pick Past 30 Day Winning Numbers
Arizona (AZ) The Pick Past 30 Day Winning Numbers
From: WED 11/08/23 ~ Thru: FRI 12/08/23
WED 12/06/23
04-05-18-30-38-40
MON 12/04/23
01-07-10-14-42-44
SAT 12/02/23
06-15-21-27-33-36
WED 11/29/23
01-02-18-19-39-43
MON 11/27/23
18-24-28-29-31-39
SAT 11/25/23
06-11-27-32-36-40
WED 11/22/23
04-16-26-28-32-44
MON 11/20/23
01-04-15-16-21-30
SAT 11/18/23
04-10-27-29-31-38
WED 11/15/23
04-07-13-15-17-28
MON 11/13/23
02-05-06-09-18-36
SAT 11/11/23
04-09-13-18-23-41
WED 11/08/23
09-23-29-34-38-42
How to Play Arizona The Pick?

The Pick is Arizona's own jackpot game with jackpots starting at $1 million and growing until someone wins. You have two ways to pick your numbers.


Choose Quick Pick and let the computer select your numbers for you.


Choose your own numbers and mark them on the selection slip. Pick six numbers (1 through 41).

Since neither you nor the computer selects the Bonus ball, it does not appear on your selection slip.

You can play The Pick for up to 10 consecutive drawing dates on the same ticket. Just tell the retailer at the time of purchase or mark the Number of Draws box on your selection slip.

LottoStrategies.com - More About Arizona (AZ) The Pick Lottery

LottoStrategies.com provides the below information:

Arizona The Pick drawing results (winning numbers), hot/cold Numbers, jackpots
Arizona The Pick Prizes and Winning Odds, wheeling system, payout, frequency chart, how to play, how to win, etc.