Premium Members


Sponsored Links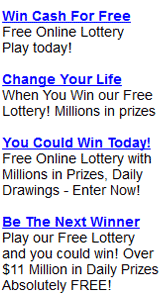 California (CA) SuperLotto Plus Past 30 Day Winning Numbers
California (CA) SuperLotto Plus Past 30 Day Winning Numbers
From: WED 08/23/23 ~ Thru: FRI 09/22/23
WED 09/20/23
02-11-12-38-46-01
SAT 09/16/23
07-18-34-36-47-23
WED 09/13/23
02-11-13-38-46-11
SAT 09/09/23
24-25-26-30-43-03
WED 09/06/23
02-03-16-25-41-12
SAT 09/02/23
04-17-28-34-38-22
WED 08/30/23
14-15-19-27-40-18
SAT 08/26/23
06-10-14-36-44-12
WED 08/23/23
18-20-30-37-44-19
How to Play California SuperLotto Plus?

New SuperLotto Plus now with 9 ways to win a prize, and a starting jackpot of $7 million.

Playing is easy and winning is fun! Here's how:

Pick up a playslip at any of over 18,000 California Lottery® retailers statewide. Tickets are only sold by California Lottery retailers to persons 18 or older. Just look for the signs with the California Lottery logo displayed at a California Lottery retailer near you.

Pick five numbers from 1 to 47 and a MEGA number from 1 to 27 on the playslip or choose QuickPick and let the computer pick them for you.

On any play, you can mark "Quick Pick®" to select just the five numbers, or just the MEGA number, or both.



LottoStrategies.com - More About California (CA) SuperLotto Plus Lottery

LottoStrategies.com provides the below information:

California SuperLotto Plus drawing results (winning numbers), hot/cold Numbers, jackpots
California SuperLotto Plus Prizes and Winning Odds, wheeling system, payout, frequency chart, how to play, how to win, etc.