Premium Members


Sponsored Links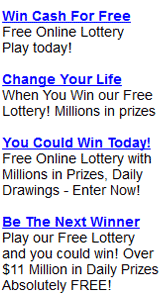 Dist. of Columbia (DC) Rolling Cash 5 Past 30 Day Winning Numbers
How to Play D.C. Rolling Cash 5?

Select 5 numbers from 1 to 35 on the ROLLING CASH FIVE game bet slip.

Can't decide? Check the Quick Pick box and let the computer choose your numbers.

Each wager costs $1.

Purchase your ticket in advance up to 42 consecutive draws.

ROLLING CASH 5 tickets cannot be canceled.

If there is more than one winner, the jackpot payments shall be determined on a pari-mutuel basis. Some or all of the fixed prizes may become pari-mutuel under certain circumstances as defined in the game rules.



LottoStrategies.com - More About Dist. of Columbia (DC) Rolling Cash 5 Lottery

LottoStrategies.com provides the below information:

Dist. of Columbia Rolling Cash 5 drawing results (winning numbers), hot/cold Numbers, jackpots
Dist. of Columbia Rolling Cash 5 Prizes and Winning Odds, wheeling system, payout, frequency chart, how to play, how to win, etc.