Premium Members


Sponsored Links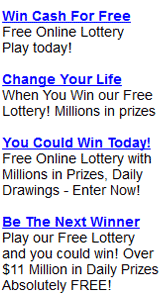 Michigan (MI) Classic Lotto 47 Past 30 Day Winning Numbers
Michigan (MI) Classic Lotto 47 Past 30 Day Winning Numbers
From: WED 08/23/23 ~ Thru: FRI 09/22/23
WED 09/20/23
03-16-26-28-30-45
SAT 09/16/23
03-09-30-41-46-47
WED 09/13/23
05-09-13-29-45-47
SAT 09/09/23
04-05-11-22-27-38
WED 09/06/23
09-10-13-15-18-43
SAT 09/02/23
18-29-39-41-42-47
WED 08/30/23
20-21-30-36-37-38
SAT 08/26/23
05-06-11-26-33-47
WED 08/23/23
01-08-10-17-24-34
How to Play Michigan Classic Lotto 47?

Players select six numbers from 1 to 47 as shown on panel A of the playslip. This is considered one "play" and costs $1.



1. You can play up to 5 panels per playslip.

2. If you don't want to choose your own numbers, mark the "Easy Pick" box on the playslip and the computer will randomly select your numbers.

3. When you have completed your playslip, return it to any Michigan lottery retailer with the amount of the wager. Your selected numbers will be entered in the next drawing and you will receive a game ticket.

4. ALWAYS remember to check your ticket(s) before leaving the terminal to ensure dates, numbers and drawings are printed exactly as you requested.

5. You can purchase Classic Lotto 47 tickets for up to 20 consecutive drawings. Simply choose the number of drawings you would like to play in the multiple-draw area on your playslip.



During the drawing, the Lottery will choose six numbers. Anyone who matches all six numbers wins the jackpot. Guaranteed prizes range from $5 to the jackpot. If no one wins the jackpot, it will continue to increase by at least $100,000 until it is won. If the jackpot is won, the jackpot starts at $1 million at the next drawing.

The Classic Lotto 47 pool closes at 7:08 p.m. the day of the drawing.

Classic Lotto 47 jackpots start at $1 million.

Cash Option for Jackpot Winners

Classic Lotto 47 jackpot winners can choose to accept their prize as a cash option or an annual payout over the next 30 years. When the winner chooses the cash option, he or she will receive his or her share of the jackpot prize pool in one lump-sum payment - which is approximately half of the estimated advertised jackpot.

Choosing Cash Option or Annuity Payments

Jackpot winners have 60 days from the date they claim a jackpot prize to request the cash option method of payment.



LottoStrategies.com - More About Michigan (MI) Classic Lotto 47 Lottery

LottoStrategies.com provides the below information:

Michigan Classic Lotto 47 drawing results (winning numbers), hot/cold Numbers, jackpots
Michigan Classic Lotto 47 Prizes and Winning Odds, wheeling system, payout, frequency chart, how to play, how to win, etc.