Premium Members


Sponsored Links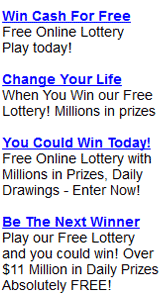 Ohio (OH) Lot O Play Past 30 Day Winning Numbers
How to Play Ohio Lot O Play?

A complete wager is made up of five rows of five numbers - for a total of 25 numbers. Players may select numbers from 00 to 99. Players have two options when playing Lot 'O Play. On a manual play ticket, players can choose their five numbers in any order, which will appear on the first row of their ticket. The computer will randomly select the next four rows (of 20 numbers).

If a player chooses auto-pick, the computer randomly selects all 25 numbers.

IN EITHER CASE, THERE ARE NO REPEAT NUMBERS ON A TICKET.

The 25 numbers within the grid are considered a single wager, therefore like Mega Millions and Rolling Cash 5, only the highest prize is paid. The Instant Win is considered a separate prize.

Instant Win Feature!

In addition to all the ways you can win above, throughout the state every 100th Lot 'O Play ticket sold will generate an instant $10 win! An audible tone will alert the customer and retailer that an Instant Win has occurred.



LottoStrategies.com - More About Ohio (OH) Lot O Play Lottery

LottoStrategies.com provides the below information:

Ohio Lot O Play drawing results (winning numbers), hot/cold Numbers, jackpots
Ohio Lot O Play Prizes and Winning Odds, wheeling system, payout, frequency chart, how to play, how to win, etc.