Premium Members


Sponsored Links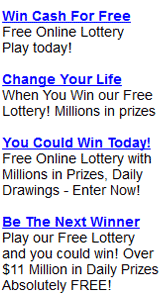 Ohio (OH) Classic Lotto Past 30 Day Winning Numbers
Ohio (OH) Classic Lotto Past 30 Day Winning Numbers
From: WED 08/23/23 ~ Thru: FRI 09/22/23
WED 09/20/23
22-23-29-33-35-42
MON 09/18/23
20-22-25-36-41-45
SAT 09/16/23
05-15-18-34-35-48
WED 09/13/23
02-08-31-36-37-40
MON 09/11/23
10-25-32-38-41-42
SAT 09/09/23
12-26-31-35-45-49
WED 09/06/23
07-16-22-28-39-47
MON 09/04/23
07-15-26-31-41-43
SAT 09/02/23
10-14-23-30-44-49
WED 08/30/23
13-21-22-25-34-43
MON 08/28/23
01-21-26-27-33-36
SAT 08/26/23
10-12-15-22-23-37
WED 08/23/23
09-11-18-19-27-32
How to Play Ohio Classic Lotto?

Jackpots start at $1 Million.

Jackpots roll based on sales, with a guaranteed increase of $100,000



Each wager costs $1


Choose 6 out of 49 numbers


Players may select their own numbers or use the Auto Pick feature


Players may give their numbers to the retailer or may place their wagers by using a bet card


There are 10 play areas and 10 Auto Picks per bet card


Players may wager for up to 10 consecutive draws


Drawings are Monday,Wednesday and Saturday evenings


Monday and Wednesday drawings are held at 7:29pm


Saturday drawings will occur during the Make Me Famous, Make Me Rich~Y television show





LottoStrategies.com - More About Ohio (OH) Classic Lotto Lottery

LottoStrategies.com provides the below information:

Ohio Classic Lotto drawing results (winning numbers), hot/cold Numbers, jackpots
Ohio Classic Lotto Prizes and Winning Odds, wheeling system, payout, frequency chart, how to play, how to win, etc.