Premium Members


Sponsored Links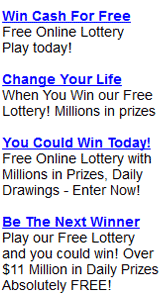 Ohio (OH) Kicker Past 30 Day Winning Numbers
How to Play Ohio Kicker?

Kicker drawings are held every Tuesday and Friday at 11:00 P.M., EST

Say "YES" to the KICKER, and you could win up to $100,000. Just mark the KICKER "K" box on your MEGA MILLIONS bet card, or ask your Lottery retailer to give you the KICKER along with your MEGA MILLIONS bet.

To win the jackpot, you must match in exact order from left to right, the computer generated six-digit KICKER number printed on your ticket.

Match 2, 3, 4 or 5 numbers from left to right and win $10 to $5,000!



LottoStrategies.com - More About Ohio (OH) Kicker Lottery

LottoStrategies.com provides the below information:

Ohio Kicker drawing results (winning numbers), hot/cold Numbers, jackpots
Ohio Kicker Prizes and Winning Odds, wheeling system, payout, frequency chart, how to play, how to win, etc.