Premium Members


Sponsored Links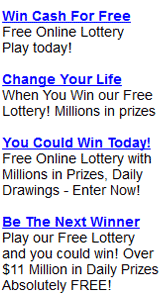 Oregon (OR) Megabucks Past 30 Day Winning Numbers
Oregon (OR) Megabucks Past 30 Day Winning Numbers
From: SAT 08/26/23 ~ Thru: MON 09/25/23
SAT 09/23/23
04-05-11-16-20-42
WED 09/20/23
18-25-28-39-41-47
MON 09/18/23
08-30-34-36-45-47
SAT 09/16/23
13-14-22-26-34-39
WED 09/13/23
04-10-29-31-37-41
MON 09/11/23
04-21-24-26-32-41
SAT 09/09/23
18-19-25-33-35-47
WED 09/06/23
03-12-19-32-34-38
MON 09/04/23
25-27-35-37-41-46
SAT 09/02/23
03-07-32-43-44-45
WED 08/30/23
06-10-13-14-43-47
MON 08/28/23
09-11-17-27-29-43
SAT 08/26/23
01-04-17-20-30-38
How to Play Oregon Megabucks?

For every dollar you play, you get two sets of six numbers for two chances to win Megabucks. Just say "Give me a Megabucks Quick Pick." You'll get a Megabucks ticket like the one shown below. Megabucks jackpots start at $1 million and grow until someone wins!

The more numbers you match, the more you win. Win prizes by matching 3, 4, 5, or 6 numbers on one line. Megabucks is a parimutuel game. Except for the 3 of 6 prize, the amount of the prizes is determined by the size of the prize pools and the number of winning tickets. Overall odds of winning a prize, 1:25. Estimated Prize payout is 70%.

Players with the winning Megabucks jackpot prize ticket have the option of receiving their prize as a single payment. This choice must be made within 60 days of the date the winning ticket is validated. The cash prize is one half of the advertised jackpot amount, less federal and state withholding taxes.

Claim Prize

At a Lottery Retailer

All Lottery retailers can pay you for Megabucks prizes up to and including $600.

At the Lottery Office in Salem

All Megabucks prizes over $600 are paid at the Lottery office in Salem. On-line game prizes over $600 may be collected at the Lottery office in Salem beginning the day after the drawing or those prizes may be claimed via mail.

Via Mail Using Winner Claim Form

If you want to claim prizes over $600 via mail, you must read and complete the Winner Claim Form.

Please print the claim form and complete all information. The original ticket and completed Winner Claim Form must be claimed via mail or in person at the Oregon Lottery office in Salem. Winner Claim Forms may not be faxed or e-mailed to the Lottery .

Kicker

Add Kicker To Win Bigger Prizes!

Add the Kicker option by paying an extra $1 for every $1 played on Megabucks. You win four times as much when you match four or five numbers. Win $4 when you match three numbers.

Consecutive Drawings

Select how many drawings you want to play your numbers: 1, 2, 3, 4, 5, or 6 drawings.

Another Way to Play - Use A Game Slip

To choose your own numbers, pick up a Megabucks game slip and fill it out. Just pick six numbers for each set from a set of 48 possible numbers (1-48). Select the number of draws, and if you would like to add Kicker. Give your completed Megabucks game slip to your Lottery retailer, or insert it into a player-operated terminal along with money to buy your ticket.

Payout Options (Cash/Annuity)

When Megabucks jackpot pize winners come to the Lottery to claim their prize, they have the option of choosing between cash or annuity payments. The one-time cash payment will be approximately half the advertised jackpot amount. The annuity payment is paid in 25 annual installments.

LottoStrategies.com - More About Oregon (OR) Megabucks Lottery

LottoStrategies.com provides the below information:

Oregon Megabucks drawing results (winning numbers), hot/cold Numbers, jackpots
Oregon Megabucks Prizes and Winning Odds, wheeling system, payout, frequency chart, how to play, how to win, etc.