Premium Members


Sponsored Links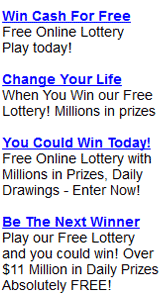 Oregon (OR) Win for Life Past 30 Day Winning Numbers
Oregon (OR) Win for Life Past 30 Day Winning Numbers
From: WED 08/23/23 ~ Thru: FRI 09/22/23
WED 09/20/23
01-07-17-29
MON 09/18/23
14-18-23-71
SAT 09/16/23
06-23-62-76
WED 09/13/23
16-37-47-57
MON 09/11/23
32-36-60-67
SAT 09/09/23
23-31-41-56
WED 09/06/23
02-27-30-35
MON 09/04/23
13-22-37-60
SAT 09/02/23
18-36-56-63
WED 08/30/23
01-20-49-55
MON 08/28/23
12-27-57-76
SAT 08/26/23
16-24-60-75
WED 08/23/23
03-07-38-72
How to Play Oregon Win for Life?

You can pick your own numbers from 1 to 77, for the $1000 a week for life top prize.

These are the first set of 4 numbers on your ticket. Your ticket will include 14 other sets of randomly generated numbers.

Claim Prize

At a Lottery Retailer

All Lottery retailers can pay you for Win for Life prizes up to and including $600.

At the Lottery Office in Salem

All Win for Life prizes over $600 are paid at the Lottery office in Salem. On-line game prizes over $600 may be collected at the Lottery office in Salem beginning the day after the drawing or those prizes may be claimed via mail.

Via Mail Using Winner Claim Form

If you want to claim prizes over $600 via mail, you must read and complete the Winner Claim Form.

Please print the claim form and complete all information. The original ticket and completed Winner Claim Form must be claimed via mail or in person at the Oregon Lottery office in Salem. Winner Claim Forms may not be faxed or e-mailed to the Lottery .

Drawing Break

There is a period of time on drawing days that Win for Life tickets cannot be purchased or validated. That time is every Monday, Wednesday and Saturday, from 7:30-7:31 PM.



LottoStrategies.com - More About Oregon (OR) Win for Life Lottery

LottoStrategies.com provides the below information:

Oregon Win for Life drawing results (winning numbers), hot/cold Numbers, jackpots
Oregon Win for Life Prizes and Winning Odds, wheeling system, payout, frequency chart, how to play, how to win, etc.