Premium Members


Sponsored Links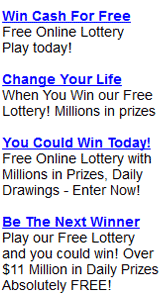 Virginia (VA) Cash 5 Day Past 30 Day Winning Numbers
How to Play Virginia Midday Cash 5?

You win $100,000 if you wager $1 and your five numbers match the five numbers in the drawing.

Choose five numbers from 1 through 34. You can play up to five sets of numbers for up to five drawings on a playslip. To play for more drawings in the future, ask the sales clerk for "multi-draw."


You can wager 25 cents or 50 cents on your set of numbers. This gives players freedom to choose more combinations for a dollar - you can play four sets for a dollar with 25-cent wagers, and two for a dollar with 50-cent wagers. Playslips are required for 25-cent and 50-cent wagers.


Each Cash 5 ticket must total at least $1 or more.


Check the chart below for all the Cash 5 prizes and chances of winning.



How to win?

If you wager $1 and your five numbers match the numbers drawn, you win $100,000. (If the total top-prize payouts for all wagers that match 5 of 5 exceed $2 million for a single drawing, all winners who match 5 of 5 for that drawing will share $2 million, in proportion to the amount they wagered.)

Optional Plays



Mark the FUTURE DRAWINGS box for any, or all, of the following. Playing more than one drawing increases the ticket price by the number of drawings you choose.


Multi-Draw: Play more than one drawing, including the next.


Advance: Play any future drawing, or drawings, except the next.


Repeat: Your play repeats for more than one ticket.



12 Chances a Week

Cash 5 drawings are held twice daily, seven days a week. Cut-off time to buy tickets is 1:53 p.m. for day drawings and 10:45 p.m. for night drawings. Drawings are broadcast on WTVR (Channel 6) in Central Virginia, WAVY (Channel 10) in Hampton Roads, WDBJ (Channel 7) in Southwest Virginia and WCYB (Channel 5) in the tri-state area. Check your local listing for times or Click Here to see the latest drawings.



LottoStrategies.com - More About Virginia (VA) Cash 5 Day Lottery

LottoStrategies.com provides the below information:

Virginia Cash 5 Day drawing results (winning numbers), hot/cold Numbers, jackpots
Virginia Cash 5 Day Prizes and Winning Odds, wheeling system, payout, frequency chart, how to play, how to win, etc.