Premium Members


Sponsored Links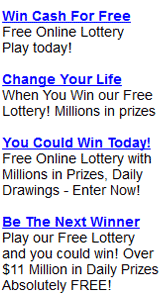 Wisconsin (WI) Super Cash Past 30 Day Winning Numbers
Wisconsin (WI) Super Cash Past 30 Day Winning Numbers
From: THU 08/24/23 ~ Thru: SAT 09/23/23
FRI 09/22/23
09-13-17-26-32-36
THU 09/21/23
12-18-25-26-34-36
WED 09/20/23
05-08-14-15-30-36
TUE 09/19/23
05-18-23-31-34-38
MON 09/18/23
10-18-26-27-34-37
SUN 09/17/23
04-09-25-26-34-39
SAT 09/16/23
01-04-16-19-20-32
FRI 09/15/23
01-10-20-21-24-27
THU 09/14/23
20-22-29-32-34-35
WED 09/13/23
08-14-24-25-27-37
TUE 09/12/23
09-10-11-15-37-39
MON 09/11/23
12-13-17-25-31-33
SUN 09/10/23
03-04-06-08-12-36
SAT 09/09/23
04-11-12-21-27-30
FRI 09/08/23
03-17-23-25-28-38
THU 09/07/23
09-10-19-22-23-35
WED 09/06/23
02-07-10-14-25-34
TUE 09/05/23
04-05-06-25-29-30
MON 09/04/23
04-06-09-13-17-24
SUN 09/03/23
09-13-21-26-27-30
SAT 09/02/23
11-13-22-23-27-34
FRI 09/01/23
03-08-13-15-29-37
THU 08/31/23
08-10-12-13-29-36
WED 08/30/23
04-09-13-31-32-39
TUE 08/29/23
08-21-26-35-37-39
MON 08/28/23
02-08-15-29-35-38
SUN 08/27/23
01-02-09-17-29-38
SAT 08/26/23
04-11-16-28-31-33
FRI 08/25/23
08-09-15-18-25-28
THU 08/24/23
03-06-08-16-18-28
How to Play Wisconsin Super Cash?

1. Choose 6 different numbers from 1 through 39. Minimum play is two panels for $1.

2. Players can place their wagers by using the SUPERCASH! playslip which is available where on-line games are sold. Players can also mark the QUICK PICK "QP" box to choose numbers the easy way - let the computer pick them randomly.

3. Choose how many draws to play. Each set of 2 plays costs $1 for each drawing entered. You can play SuperCash! up to 7 days in advance at one time.

4. Receive valid ticket and sign the back.



LottoStrategies.com - More About Wisconsin (WI) Super Cash Lottery

LottoStrategies.com provides the below information:

Wisconsin Super Cash drawing results (winning numbers), hot/cold Numbers, jackpots
Wisconsin Super Cash Prizes and Winning Odds, wheeling system, payout, frequency chart, how to play, how to win, etc.