Premium Members


Sponsored Links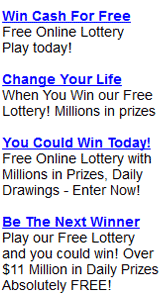 Wisconsin (WI) Pick 3 Evening Past 30 Day Winning Numbers
Wisconsin (WI) Pick 3 Evening Past 30 Day Winning Numbers
From: WED 11/08/23 ~ Thru: FRI 12/08/23
THU 12/07/23
8-5-1
WED 12/06/23
1-8-6
TUE 12/05/23
3-5-7
MON 12/04/23
0-9-1
SUN 12/03/23
5-2-0
SAT 12/02/23
2-5-0
FRI 12/01/23
0-5-1
THU 11/30/23
7-1-6
WED 11/29/23
2-2-5
TUE 11/28/23
8-3-5
MON 11/27/23
4-2-3
SUN 11/26/23
1-5-5
SAT 11/25/23
0-7-5
FRI 11/24/23
9-4-0
THU 11/23/23
4-4-7
WED 11/22/23
8-1-7
TUE 11/21/23
4-3-3
MON 11/20/23
9-7-3
SUN 11/19/23
1-3-4
SAT 11/18/23
7-6-8
FRI 11/17/23
8-0-9
THU 11/16/23
7-6-0
WED 11/15/23
0-9-4
TUE 11/14/23
1-8-3
MON 11/13/23
2-1-7
SUN 11/12/23
5-2-9
SAT 11/11/23
1-6-8
FRI 11/10/23
6-1-1
THU 11/09/23
3-9-2
WED 11/08/23
9-5-5
How to Play Wisconsin Pick 3?

1. Pick your three numbers from 0 to 9 or mark the QUICK PICK "QP" box to choose the numbers the easy way. Minimum play is $.50. 2. Decide how you would like to match the winning numbers. This will determine how much you can win.



In EXACT order? Then mark STRAIGHT.


In ANY order? Then mark BOX.



Want to play both? Then mark STRAIGHT / BOX

(combination .50 straight/.50 box play)

3. Playing BOX? (see how to win below). Find out what kind of box your numbers are.



If 2 of the 3 numbers are the same (as in 112), then it's a 3-way box.


If all 3 numbers are different (as in 847), then it's a 6-way box.


If all 3 numbers are the same, this is a STRAIGHT play.



4. Decide how much you want to wager. ($.50 or $1)

Note: STRAIGHT / BOX plays are all $1. A STRAIGHT / BOX play is a $.50 BOX play plus a $.50 STRAIGHT play. You can play Pick 3 up to 7 days in advance at one time.

5. Hand your money and playslip to the retailer. Receive and sign your ticket.



LottoStrategies.com - More About Wisconsin (WI) Pick 3 Evening Lottery

LottoStrategies.com provides the below information:

Wisconsin Pick 3 Evening drawing results (winning numbers), hot/cold Numbers, jackpots
Wisconsin Pick 3 Evening Prizes and Winning Odds, wheeling system, payout, frequency chart, how to play, how to win, etc.