Premium Members


Sponsored Links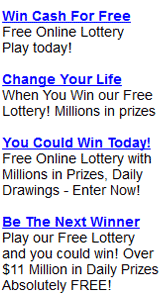 Louisiana (LA) Cash Quest Past 30 Day Winning Numbers
How to Play Louisiana Cash Quest?

1. On a Cash Quest playslip, mark four numbers from 1 through 50 for the $50,000 top prize group. You can play up to 5 different boards (A-E) on each playslip. Each Cash Quest play is $1.

-OR-

2. Mark the Quick Pick box on each board you wish to play (up to 5 boards per playslip).

-OR-

3. Ask for a Quick Pick for your Cash Quest numbers.

4. The lottery terminal will randomly select an additional six sets of four numbers for each $1 play, which are divided into separate prize groups on your ticket.

5. You may play the same sets of numbers for 2, 3, 4, 5, 10 or 20 consecutive draws by marking the appropriate MULTIDRAW box on a Cash Quest playslip. Or, when purchasing a Quick Pick, ask for the number of drawings you want to play, up to 20 drawings.

THE DRAWING

Cash Quest drawings are held every Tuesday - Saturday except on Christmas Day. Make sure you buy your tickets for each Cash Quest drawing by 9:30 p.m. on the day of the drawing. Tickets purchased after 9:30 p.m. on drawing nights will be valid for the next drawing(s). Cash Quest winning numbers are displayed on participating television stations Tuesday - Saturday nights and updated on this Web site.

MORE ABOUT LOUISIANA CASH QUEST

With Cash Quest, you get seven chances to win -- up to $50,000, $3,000 or $500 in each prize group -- the best overall odds of winning a prize of any Louisiana Lottery drawing game!

Overall odds of winning a prize are approximately 1 in 5. The overall probabilities of winning a prize on a single $1 ticket include the possibility that some tickets may contain duplicate numbers and are based on the total number of possible combinations of tickets in the game.

* If more than 5 prizes are won in the $50,000 prize group in a single drawing, the top prize group becomes pari-mutuel on a total value of $250,000.



LottoStrategies.com - More About Louisiana (LA) Cash Quest Lottery

LottoStrategies.com provides the below information:

Louisiana Cash Quest drawing results (winning numbers), hot/cold Numbers, jackpots
Louisiana Cash Quest Prizes and Winning Odds, wheeling system, payout, frequency chart, how to play, how to win, etc.